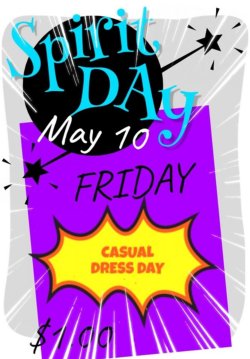 What

Casual Day 5/10/2019

When

5/10/2019
➡️⚠️CASUAL DAY ON FRIDAY⚠️⬅️

Attention Scorpions,
We have another 'Spirit Day' coming up this Friday, May 10th for $1 dll. You may also wear jeans.

As always, jeans CANNOT be torn/ripped‼❗‼

Thank you for your support! ????????????

➡️⚠️DÍA CASUAL ESTE VIERNES ⚠️⬅️

Atención estudiante,
¡Viste 'casual' este viernes, 10 de mayo por 1 dólar. También, puedes usar jeans.

Como siempre, tus pantalones de mezclilla no pueden tener hoyos o estar rasgados❗‼❗

¡Gracias por tu apoyo! ????????????